Preparing Your Furnace or Boiler for the Winter Season
The boiler in your Chicago residential building is designed to heat your whole facility at once, but boilers cannot be left to their own devices. This article explains how you can prepare your boiler for the winter season, and you must take each piece of advice to heart.
A proper boiler is a large unit that houses hundreds of gallons of water, and the heat will flow through the building via air ducts. Boilers tend to break down when not in use, and these pointers will help you prevent further damage to the boiler when winter weather arrives.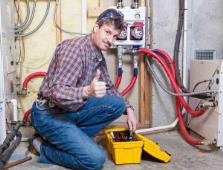 #1: Check For Leaks Yourself
You can turn on the boiler yourself to check for leaks, and the leaks are easy to see. Run the boiler for just a minute to find any leaks, and immediately turn off the boiler.
You may report leaks to a technician, and you will see how grim the state of your boiler. Small leaks can be repaired, but major leaks may be a sign of serious trouble.
#2: Make A Service Appointment
A service appointment for your furnace must be scheduled long before the winter season, and the service technician will repair small problems in the boiler for you.
You cannot see all the problems in the system yourself, and you need help from a certified HVAC professional. Keep your yearly appointment to solve problems with the boiler when the winter season rolls around.
#3: Check The Heating Consistency
A large boiler can heat a massive building in just a few minutes, but the heating can be incredibly inconsistent. You must walk around your building to see if the boiler heats consistently in all parts of the space.
A good boiler will heat every area properly, but problems with the boiler become apparent when you notice hot and cold spots. Your technician can check on the hot and cold spots, and small adjustments can be made to your boiler before the winter season begins.
You must check on the boiler in your Chicago building every year before the season starts. Boilers are notorious for failing when they are left to sit for long periods of time, and a professional technician will help repair the system.
You can check for leaks on your own, and you will notice hot spots in the building. Work with a technician during your yearly appointment to ensure that your boiler is functioning properly.
Ensure that your furnace is in working order before the winter frost! Call TDH Mechanical, Inc. at (630) 406-9082 now to winterize your Chicago, IL home early.