Are you looking for reliable Chicago furnace repair and maintenance service? Call (630) 406-9082 today for quick, affordable service that is guaranteed to solve your problem every time. Click here to browse through our current discounts and coupons.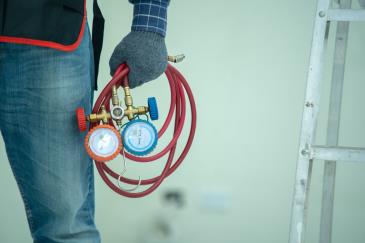 One appliance it just doesn't make sense to neglect is your furnace. You count on it to provide you with warmth and comfort throughout the winter, so it is important to do your part to keep it running smoothly. Having a furnace breakdown when it's freezing outside is a frightening thought, so find a reputable service provider close to you and keep the number just in case you ever need it.
You can read through a list of reviews of our services from people in your area when you click here now.
When Repairs are Needed
For the average homeowner, trying to figure out efficiency ratings can be a little challenging. It's usually easier to monitor your furnace's performance to tell if there is something wrong. If you're not getting enough heat from the furnace or if the temperatures you set aren't being met, there likely needs to be a repair somewhere in the system. If you smell unusual odors, hear loud noises when the furnace is going or see your heating bills climbing for no real reason, then it's time someone came in and had a closer look at your heating system.
When Repairs Turn to Replacement
If you have a furnace that is up over the age of 15 and has begun showing signs of wear and tear, you may need to think about having it replaced. When a furnace gets that old, it is probably no longer efficient, and the repairs will start to add up and become a sizable expense. Some experts say if the repair bill is up over $700, then a new furnace may be the best course of action.
What Happens During Maintenance?
Every homeowner is advised to maintain his or her furnace throughout its life, so it will run more efficiently and last longer. When you have scheduled furnace maintenance, the technician will come in and thoroughly inspect your system. If there are any areas that need repairs, he will fix them up and he will clean all the important components of the furnace, including changing the filter. Once all this is done, the furnace will run smoothly for the upcoming winter and the homeowner will usually realize some savings.
HOW ARE WE DIFFERENT?
What sets us apart from other HVAC companies?
We have been around since 1985, and have over 30 years of experience.
We serve over 200 towns throughout the Chicago area including, Saint Charles and Batavia.
Our team is NATE and EPA certified, and comply with industry codes and standards.
We do not subcontract our work to third parties. Your technician is a full-time professional at TDH Mechanical, handpicked by Tim himself.
We have a team of loyal HVAC professionals, some of whom have been with us for several years. This results in dedicated experts who are interested in building long-term relationships with our customers.
We are authorized Trane dealers and offer the Trane Satisfaction Guarantee.
Top notch, truly personalized service from start to finish. No matter the extent of the job.
There is no problem too small or overwhelming for our team to tackle. We treat each and every service call with the same level of urgency, whether it's a new furnace installation or air duct cleaning. All of our HVAC technicians carry a customer-first mindset, allowing you to benefit from unparalleled workmanship and a close attention to detail. Our goal is the same as yours: to help you experience a truly comfortable home environment without unexpected interruptions from your heating and cooling system.