Get professional Chicago air duct cleaning and repair service when you call (630) 406-9082 today. We will set up an appointment for one of our air duct specialists to visit your home and assess the situation. Find our current online sales and coupons when you click here.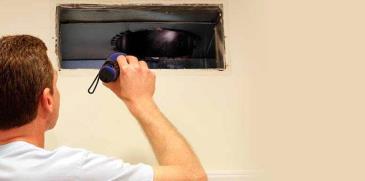 The air ducts inside your home are always there, hidden from view and working to deliver warm or cool air to the various rooms of your house. Not many homeowners think about them, but they are an important part of both your heating and AC systems. Promotions for duct cleaning always seem to be around, and while many of them are put out there by amateurs looking to make a fast buck, reputable, professional duct cleaning does make a difference in your indoor air quality.
You can read through a list of reviews of our services from people in your area when you click here now.
Clean Your Air Ducts
If you're moving into a new home, it's always a good idea to have the ducts cleaned shortly after you arrive, or even before you move all your things in, if possible. If the previous homeowner shows you a receipt for a recent duct cleaning, then it's not an issue, but most of the time this isn't the case. Dirt, dust and even mold can settle into the air ducts and cause problems for everyone living inside. These allergens get into the airflow and are breathed in during the day and at night while your family is sleeping. Sometimes, people will try to treat their respiratory issues with medication, when all they really needed was a duct cleaning.
Do You Have Pets in the House?
In most cases, annual duct cleaning will keep the air quality at a good level, but there are a few scenarios where you might want to increase the frequency. If you have pets in the house, especially ones that are prone to shedding, pet dander can line your air ducts and worsen the allergy situation. If there is a fireplace in the house, that is another situation where more frequent duct cleaning may be required.
What is an Air Duct Leak?
With so much emphasis on duct cleaning, it's easy to forget the fact that they can also become damaged and need repair. Air duct leaks can form over time, or because of faulty installation at the beginning. When you have a leak in the air duct, the air that should be going into the rooms of your house escapes into basements, attics and other areas.
HOW ARE WE DIFFERENT?
What sets us apart from other HVAC companies?
We have been around since 1985, and have over 30 years of experience.
We serve over 200 towns throughout the Chicago area including, Saint Charles and Batavia.
Our team is NATE and EPA certified, and comply with industry codes and standards.
We do not subcontract our work to third parties. Your technician is a full-time professional at TDH Mechanical, handpicked by Tim himself.
We have a team of loyal HVAC professionals, some of whom have been with us for several years. This results in dedicated experts who are interested in building long-term relationships with our customers.
We are authorized Trane dealers and offer the Trane Satisfaction Guarantee.
Top notch, truly personalized service from start to finish. No matter the extent of the job.
There is no problem too small or overwhelming for our team to tackle. We treat each and every service call with the same level of urgency, whether it's a new furnace installation or air duct cleaning. All of our HVAC technicians carry a customer-first mindset, allowing you to benefit from unparalleled workmanship and a close attention to detail. Our goal is the same as yours: to help you experience a truly comfortable home environment without unexpected interruptions from your heating and cooling system.