You can have access to professional Chicago air handler services when you pick up the phone and call (630) 406-9082 today. This is an important part of your AC system, so don't wait to call if something isn't right. Save money with our current online coupons and discounts when you click here.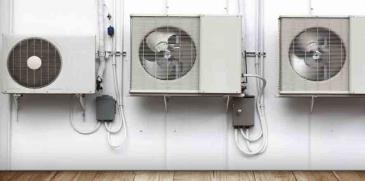 If you've never heard of an air handler, you're not alone. It's not one of the more common elements of your air conditioning system. It is an important element, though. The unit resembles a metal box, and inside that box are a handful of crucial AC components. The air handler contains the air filter, damper, circulation fan, blower motor and sound attenuators. It is connected to the ductwork in your HVAC system and helps distribute air through your house. It must be working efficiently in both the heating and cooling season to ensure the airflow is always right.
You can read through a list of reviews of our services from people in your area when you click here now.
Several Issues Can Affect Your Air Handler
Circulating dirty air throughout the house isn't an ideal situation, but it is what will happen if the air filter is dirty and clogged. When this happens, the motors and fans have to work harder, increasing energy bills and the likelihood of the motor burning out prematurely. Other issues that can have a negative effect on your air handler include dirty evaporator coils, algae and dirt in the condenser drain line, faulty sensors and capacitors, or damaged fans and control boards. Sometimes, mold may grow if algae form, because there will be excess water in the drip pan. The key is to call for professional assistance as soon as you notice a problem. This way, you can prevent major trouble and keep your repair costs to a minimum.
Professional Service Makes the Difference
Seeing a homeowner use the DIY approach isn't unusual at all in the modern age of home improvement shows. However, when the subject matter is your AC and more specifically the air handler, it's best to leave the work to experienced pros. Finding a reputable service provider to do the repair or installation will ensure it is done correctly and all local building codes are followed closely. An efficient system will keep your heating bills down and extend the life of your AC, so save the DIY approach for other projects.
HOW ARE WE DIFFERENT?
What sets us apart from other HVAC companies?
We have been around since 1985, and have over 30 years of experience.
We serve over 200 towns throughout the Chicago area including, Saint Charles and Batavia.
Our team is NATE and EPA certified, and comply with industry codes and standards.
We do not subcontract our work to third parties. Your technician is a full-time professional at TDH Mechanical, handpicked by Tim himself.
We have a team of loyal HVAC professionals, some of whom have been with us for several years. This results in dedicated experts who are interested in building long-term relationships with our customers.
We are authorized Trane dealers and offer the Trane Satisfaction Guarantee.
Top notch, truly personalized service from start to finish. No matter the extent of the job.
There is no problem too small or overwhelming for our team to tackle. We treat each and every service call with the same level of urgency, whether it's a new furnace installation or air duct cleaning. All of our HVAC technicians carry a customer-first mindset, allowing you to benefit from unparalleled workmanship and a close attention to detail. Our goal is the same as yours: to help you experience a truly comfortable home environment without unexpected interruptions from your heating and cooling system.