Discover expert Chicago ductwork installation services when you call (630) 406-9082 today. We can book an appointment for you and send a ductwork specialist to your home to analyze the situation and offer a custom solution. Check out our current online specials and coupons when you click here now.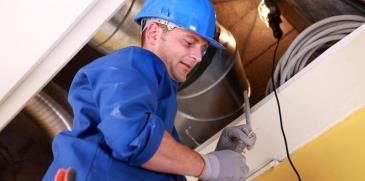 One of the elements of your heating and cooling system that most people take for granted is the ductwork. It is hidden from view and positioned between the furnace or AC and your vents and registers where the heated or cooled air comes out. The ductwork is responsible for allowing the heated or cooled air to travel to its final destination, which are the various rooms of your house. It seems like a simple task, but effective installation is a must.
You can read through a list of reviews of our services from people in your area when you click here now.
What is an Air Duct Leak?
Most people are familiar with leaking pipes or even a leaking air conditioner, but leaking air ducts? When this happens, there are points in the ductwork that weren't installed correctly and air escapes on its way to the different rooms in the house. Instead of reaching its intended destination, some of it ends up in the attic or the basement or some other place that doesn't need it.
Naturally, if the ducts are losing air then it will take more of it to reach the temperature that's been programmed into the thermostat. This will increase your energy consumption and the amount of your energy bills. Along with poor installation techniques, air duct leaks can occur if the ducts are older and starting to wear down.
The Value of Regular Cleaning
Dirty air ducts will end up blowing particles into your living space, whether the ducts were installed properly or not. With regular use, dust, dirt and mold can form on the inside of your ductwork, making for a messy situation when the AC or furnace is running at full blast. Take the time to schedule annual duct cleaning so there are no airborne contaminants coming from your ducts to disturb your family members.
Leave Your Ducts to the Pros
The best way to ensure your ductwork has been installed correctly is to leave that part to professionals. It only takes a small miscalculation in the planning and layout to start losing air and losing money. Your ductwork is the pathway that brings heated and cooled air to you and your family, dictating how comfortable or uncomfortable you will be. Make sure that pathway is installed by someone with the expertise and experience to do it right.
HOW ARE WE DIFFERENT?
What sets us apart from other HVAC companies?
We have been around since 1985, and have over 30 years of experience.
We serve over 200 towns throughout the Chicago area including, Saint Charles and Batavia.
Our team is NATE and EPA certified, and comply with industry codes and standards.
We do not subcontract our work to third parties. Your technician is a full-time professional at TDH Mechanical, handpicked by Tim himself.
We have a team of loyal HVAC professionals, some of whom have been with us for several years. This results in dedicated experts who are interested in building long-term relationships with our customers.
We are authorized Trane dealers and offer the Trane Satisfaction Guarantee.
Top notch, truly personalized service from start to finish. No matter the extent of the job.
There is no problem too small or overwhelming for our team to tackle. We treat each and every service call with the same level of urgency, whether it's a new furnace installation or air duct cleaning. All of our HVAC technicians carry a customer-first mindset, allowing you to benefit from unparalleled workmanship and a close attention to detail. Our goal is the same as yours: to help you experience a truly comfortable home environment without unexpected interruptions from your heating and cooling system.