Do you need reliable Chicago cooling system installation and repair? Call us today at (630) 406-9082 so we can provide you with the results you need. We will send a cooling specialist to your home to get to the bottom of the issue and offer a practical solution. See our current money-saving coupons and discounts when you click here.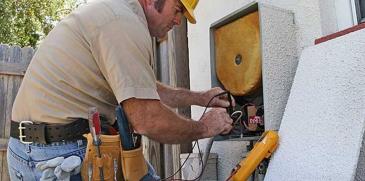 During an Illinois summer heatwave, the hot air gets trapped inside your home, and unless you have an effective air conditioning system, it isn't leaving. Even at night with the windows open, the heat can be unbearable. If there is no breeze to offer any relief, you'll be doing more sweating than sleeping. That is why it is so important to keep your system running efficiently all summer long.
You can read through a list of reviews of our services from people in your area when you click here now.
Cooling System Checklist
Check and/or replace air filters
Check thermostat calibration
Tighten electrical connectors
Clean and adjust blower components
Clean and adjust fan components
Electronic leak check systems
Lubricate moving parts (if possible)
Measure condition of compressor
Measure condition of fan motor
Refrigerant Type
Monitor Refrigerant
Charging procedure
Refrigerant
Air temperature
Check, adjust or replace belt
Level Condenser (if needed)
Give energy conservation recommendation
Typical AC Problems
General wear and tear kind of damage can happen to any system, but it's important to notice the signs before they end up shutting your system down when you are depending on it. Some of the signs that may precede an AC breakdown include leaking refrigerant around the evaporator coil, frozen coils, lukewarm air coming from the vents when it should be cold, knocking or banging noises coming from the main unit and jumps in your energy bill for no apparent reason. If you see any of these signs, don't wait long before you call for help.
Why You May Need It Replaced
Once your air conditioning system gets up to around the 15-year mark, things will start going wrong just because the system is older and weaker than when it was younger. After so many years, there are also newer and more energy efficient models available that can save you quite a lot of money on your monthly cooling bills. If your system is older and you notice the repair bills are getting into the hundreds no matter what you do, replacing your system with a new one may be the best option. A consultation with your service provider should give you all the answers you need.
Why Work with Professionals?
To ensure your AC system has the best possible care, whether it is with repairs, maintenance or replacements, insist on using a professional, reputable company for all services. There are so many ways to cause damage to yourself and your home when repairing and installing air conditioning systems, it isn't worth the risk.
HOW ARE WE DIFFERENT?
What sets us apart from other HVAC companies?
We have been around since 1985, and have over 30 years of experience.
We serve over 200 towns throughout the Chicago area including, Saint Charles and Batavia.
Our team is NATE and EPA certified, and comply with industry codes and standards.
We do not subcontract our work to third parties. Your technician is a full-time professional at TDH Mechanical, handpicked by Tim himself.
We have a team of loyal HVAC professionals, some of whom have been with us for several years. This results in dedicated experts who are interested in building long-term relationships with our customers.
We are authorized Trane dealers and offer the Trane Satisfaction Guarantee.
Top notch, truly personalized service from start to finish. No matter the extent of the job.
There is no problem too small or overwhelming for our team to tackle. We treat each and every service call with the same level of urgency, whether it's a new furnace installation or air duct cleaning. All of our HVAC technicians carry a customer-first mindset, allowing you to benefit from unparalleled workmanship and a close attention to detail. Our goal is the same as yours: to help you experience a truly comfortable home environment without unexpected interruptions from your heating and cooling system.