Discover fast, reliable Chicago boiler repair and installation when you call (630) 406-9082 today. We will set up an appointment for one of our heating specialists with boiler experience to come out and assess the situation. Find out what money-saving coupons we currently have when you click here.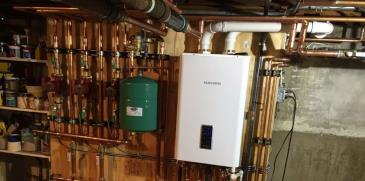 The concept of using hot water or steam to produce heat has been around forever, and boilers are still used today to heat homes and businesses. When a boiler is being used to provide the heat, there is typically a steam radiator or baseboard heaters. Whatever system is used in your home or business, it is important to keep it running efficiently so you always have the heat you need.
You can read through a list of reviews of our services from people in your area when you click here now.
Does My Boiler Need Repairs?
Aside from having no heat in your house at all, the signs telling you that your boiler needs repairs can be quite subtle. You may notice rumbling sounds known as "kettling" in the boiler. This happens when a white residue known as limescale builds up on the heat exchange of the boiler. Limescale is a by-product of having hard water in your household. You may also hear gurgling sounds or whistling as air becomes trapped in the boiler. If the boiler seems to be working properly, but shuts off before the rooms reach the desired temperature, this is also a sign something isn't right.
Switching Up Your Older Boiler
Boilers are quite resilient, lasting for up to half a century in some cases. Many homeowners will never even consider having their boiler replaced, but sometimes it's a wise choice even if that upper age limit isn't close to being reached. If the boiler has been damaged and repairs are too costly, a replacement may be recommended. If newer, more energy efficient models of boiler are available that will save quite a bit on your monthly heating bills, a replacement might make sense.
Benefits of Professional Boiler Service
Whether you need a repair or a full replacement, choosing professional boiler service is the only way to go. When you use a professional, they will test for CO2 emissions so there is no carbon monoxide inside your home, they will obey all the local building codes and follow bylaws and they will be familiar with each manufacturer, keeping your warranties intact during new installations. Your boiler is responsible for keeping your house warm and comfortable, so make sure you take the repairs or replacement seriously.
HOW ARE WE DIFFERENT?
What sets us apart from other HVAC companies?
We have been around since 1985, and have over 30 years of experience.
We serve over 200 towns throughout the Chicago area including, Saint Charles and Batavia.
Our team is NATE and EPA certified, and comply with industry codes and standards.
We do not subcontract our work to third parties. Your technician is a full-time professional at TDH Mechanical, handpicked by Tim himself.
We have a team of loyal HVAC professionals, some of whom have been with us for several years. This results in dedicated experts who are interested in building long-term relationships with our customers.
We are authorized Trane dealers and offer the Trane Satisfaction Guarantee.
Top notch, truly personalized service from start to finish. No matter the extent of the job.
There is no problem too small or overwhelming for our team to tackle. We treat each and every service call with the same level of urgency, whether it's a new furnace installation or air duct cleaning. All of our HVAC technicians carry a customer-first mindset, allowing you to benefit from unparalleled workmanship and a close attention to detail. Our goal is the same as yours: to help you experience a truly comfortable home environment without unexpected interruptions from your heating and cooling system.