Is your furnace nearing the end of its life cycle? Call (630) 406-9082 today for professional Chicago furnace installation and replacement services. We will come out to inspect your furnace and help you determine if replacement is the right way to go. Browse through our valuable money-saving coupons when you click here.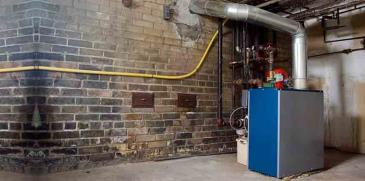 The environment in the Chicago, IL area ranges from howling winds and frigid temperatures in the winter, to hot, sticky and humid temperatures in the heat of summer. The weather is unpredictable at best, and it's always wise to have your furnace working at peak efficiency from the fall through until the following spring. By keeping it running smoothly and well maintained, you can feel at ease knowing it will serve you well whenever it's called upon.
You can read through a list of reviews of our services from people in your area when you click here now.
Is Furnace Replacement a Waste of Money?
Many homeowners like to squeeze every last bit of life out of their furnace before replacing it, to avoid having to pay for a new one. It's true that a new furnace is a major expense, but it's also a major investment. A new furnace is a big selling feature and will raise the value of your home. Getting a new furnace also means your older model has been replaced by a newer, more energy efficient model that will lower your heating bills. So, the answer to the question is a resounding no!
When Your Thermostat and Furnace Don't Agree
One sign that you need to have someone look at your furnace for possible repair, is when you set a temperature on your thermostat and the furnace can't make it happen. The reason you have a programmable thermostat is so you can enjoy the exact temperature you want, so if it isn't working you should have someone come in and take a look. There may be an issue with the thermostat, the sensors, blowers, motor or an electrical component.
Furnace Filters Need Attention, Too
With so much attention paid to other parts of your furnace, the filter often gets neglected. You'll get it changed by the technician if you have annual maintenance, but it needs to be changed every three months to keep your heating system running efficiently. Find out how to change it yourself, or schedule a visit every few months to keep the filter clean and the furnace running well.
HOW ARE WE DIFFERENT?
What sets us apart from other HVAC companies?
We have been around since 1985, and have over 30 years of experience.
We serve over 200 towns throughout the Chicago area including, Saint Charles and Batavia.
Our team is NATE and EPA certified, and comply with industry codes and standards.
We do not subcontract our work to third parties. Your technician is a full-time professional at TDH Mechanical, handpicked by Tim himself.
We have a team of loyal HVAC professionals, some of whom have been with us for several years. This results in dedicated experts who are interested in building long-term relationships with our customers.
We are authorized Trane dealers and offer the Trane Satisfaction Guarantee.
Top notch, truly personalized service from start to finish. No matter the extent of the job.
There is no problem too small or overwhelming for our team to tackle. We treat each and every service call with the same level of urgency, whether it's a new furnace installation or air duct cleaning. All of our HVAC technicians carry a customer-first mindset, allowing you to benefit from unparalleled workmanship and a close attention to detail. Our goal is the same as yours: to help you experience a truly comfortable home environment without unexpected interruptions from your heating and cooling system.