You can get instant access to expert Chicago commercial heating and cooling services when you call (773) 342-4338 today. Don't wait for the problem to turn into a major heating or AC disaster. Give us a call and we will respond with a quick and reliable solution.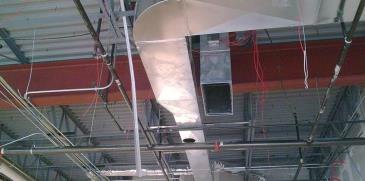 Heating and Cooling Services
If you are an owner or property manager for a commercial building, you know how important it is to keep the heating and cooling systems running smoothly all year round. If either system breaks down for even a few days at the wrong time, you could be looking at some serious financial losses in sales, wages or both. The wise choice for any commercial building manager is to build a relationship with a local, reputable heating and cooling expert so one phone call is all you have to make if something goes wrong. Time is of the essence, so having professional help available is key.
You can read through a list of reviews of our services from people in your area when you click here now.
Don't Skimp When It Comes to Maintenance
Regular maintenance is just as important for commercial heating and cooling systems as it is for residential ones, maybe even more important. With so much at stake in the form of lost sales, production, wages and potential property damage, keeping these systems maintained all year is extra important. Just like with residential systems, regular maintenance will keep everything clean and running smoothly to help keep costs down and the system working well when it is needed most. Annual maintenance generally works well for residential heating and cooling systems, but since commercial systems are used more often, make sure you work out a schedule with your service provider on the initial visit.
Professional Service Is Essential
DIY commercial heating and cooling service doesn't quite sound right, and there's a reason for that. The responsibility that's placed on your heater and air conditioning working effectively in a commercial setting means you should only rely on experienced, licensed professionals for repairs, installation and anything else that is required. Imagine a frigid Illinois winter night and the furnace or boiler breaks down, then the pipes freeze and burst causing massive property damage and financial loss.
It sounds like a plumbing problem, but it started with the heater. On the reverse end, a scorching July day at a shopping mall would result in most shoppers leaving if the AC was broken. The damages aren't the same as the frozen pipe scenario, but thousands in sales would be lost.
HOW ARE WE DIFFERENT?
What sets us apart from other HVAC companies?
We have been around since 1985, and have over 30 years of experience.
We serve over 200 towns throughout the Chicago area including, Saint Charles and Batavia.
Our team is NATE and EPA certified, and comply with industry codes and standards.
We do not subcontract our work to third parties. Your technician is a full-time professional at TDH Mechanical, handpicked by Tim himself.
We have a team of loyal HVAC professionals, some of whom have been with us for several years. This results in dedicated experts who are interested in building long-term relationships with our customers.
We are authorized Trane dealers and offer the Trane Satisfaction Guarantee.
Top notch, truly personalized service from start to finish. No matter the extent of the job.
There is no problem too small or overwhelming for our team to tackle. We treat each and every service call with the same level of urgency, whether it's a new furnace installation or air duct cleaning. All of our HVAC technicians carry a customer-first mindset, allowing you to benefit from unparalleled workmanship and a close attention to detail. Our goal is the same as yours: to help you experience a truly comfortable home environment without unexpected interruptions from your heating and cooling system.