Find expert Chicago air conditioning repair and maintenance when you call (630) 406-9082 today. Reliable, reputable service is just a phone call away! Click here for valuable online coupons and specials.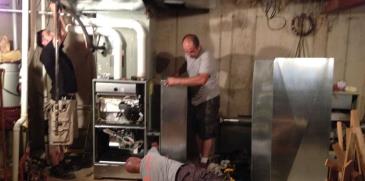 A broken air conditioner is never fun for anyone, especially on those hot, humid days and nights when just moving causes you to sweat. The challenge for many homeowners is to find a service provider that is local and can handle any type of AC issue that comes up. High quality services and fair prices are what we offer our customers on a daily basis, and we have the experience and expertise to take care of even the most challenging AC issues.
You can read through a list of reviews of our services from people in your area when you click here now.
Risks of Using a Damaged AC
If one or more parts of your air conditioner are damaged, you risk causing even greater damage that may facilitate extensive, costly repairs or a total replacement. All the parts of your AC work together to bring the cool air through your vents, so when one or two wear down, the rest have to work that much harder. Eventually, the whole system will break down and you'll have no choice but to call for repairs. Call when you first notice trouble and minimize the overall damage.
AC Maintenance Benefits
If you want to avoid scenarios like the one mentioned above, and if you'd like to add a few years to the life of your air conditioner, regular maintenance is a wise choice. When you schedule routine maintenance visits, a technician will come in and clean out all the various components of your AC, helping it to run more efficiently. He will also fix minor issues, so they never have the chance to multiply. Try setting up a maintenance appointment shortly before the normal cooling season, and you'll find the AC runs great all through the summer.
Customer Service Makes the Difference
It's important to allow only experienced professionals into your home to service your air conditioning, but going even deeper, look for a company that provides excellent customer service. Many professional AC service providers can fix your problem, but it's the ones that make you feel special in the process by respecting your home and being open and friendly that are really worth keeping. If you can form a relationship with one a local company that offer great technical service and amazing customer service, you'll always be happy.
HOW ARE WE DIFFERENT?
What sets us apart from other HVAC companies?
We have been around since 1985, and have over 30 years of experience.
We serve over 200 towns throughout the Chicago area including, Saint Charles and Batavia.
Our team is NATE and EPA certified, and comply with industry codes and standards.
We do not subcontract our work to third parties. Your technician is a full-time professional at TDH Mechanical, handpicked by Tim himself.
We have a team of loyal HVAC professionals, some of whom have been with us for several years. This results in dedicated experts who are interested in building long-term relationships with our customers.
We are authorized Trane dealers and offer the Trane Satisfaction Guarantee.
Top notch, truly personalized service from start to finish. No matter the extent of the job.
There is no problem too small or overwhelming for our team to tackle. We treat each and every service call with the same level of urgency, whether it's a new furnace installation or air duct cleaning. All of our HVAC technicians carry a customer-first mindset, allowing you to benefit from unparalleled workmanship and a close attention to detail. Our goal is the same as yours: to help you experience a truly comfortable home environment without unexpected interruptions from your heating and cooling system.