Look no further for your Chicagoland cooling needs. We service and install HVAC throughout all of Chicagoland and Suburbs with office locations in Chicago and St. Charles. We are a family owned business serving homeowners for over 30 years, providing quick, reliable and honest service. Don't let this home investment overwhelm you, this information will help guide you in making the right decision for your home cooling needs.
What is an air conditioning system?
Air-conditioning system is made up of 2 pieces of equipment; a condenser, which is the unit that sits outside and an evaporator coil, this is installed on top of or below your furnace. When you buy an air conditioner you purchase both pieces of equipment complete as a system. An air conditioning system in good condition is designed to lower the temperature in your home 20 degrees from the outdoor temperature.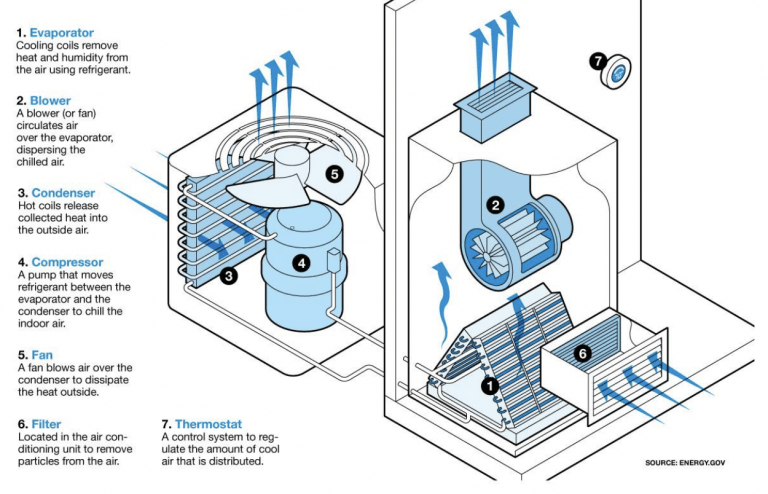 What do I need to know about an air conditioner?
Considerations when purchasing an air conditioner are cost, energy savings, efficiency, warranty, rebates, brand, size and type of air conditioner. Read on, we will simplify this for you to better understand and feel comfortable in your decision-making process.
Air conditioner cost varies depending on brand, size, efficiency and type.
TDH Mechanical, Inc. is a Trane dealer. Trane provides great support for its products and a 10-year parts and labor warranty. We are so confident in the Trane brand that we exceed their warranty by 2 years, providing our customers 12 years parts and labor warranty on Trane products we install. Trane provides quiet, efficient air conditioners ranging from 13 Seer to 22 SEER.
What size air conditioner do I need?
Your air conditioner size depends on the size of your home and needs. We can provide a free on-site estimate to help determine sizing.
What SEER do I need?
Efficiency is expressed as the Seasonal Energy-Efficiency Rating, or SEER. (SEER measures air conditioning cooling efficiency). Seer is calculated by the cooling output for a typical cooling season divided by the total electric energy input during the same time frame. A SEER rating is a maximum efficiency rating, like the miles per gallon for your vehicle. Your vehicle might get 26 miles per gallon on the highway, but if you're stuck in city traffic it could be lower. If your air conditioner is 22 SEER, that's its maximum efficiency.
What is a SEER rating?
A higher Seer rating means greater energy efficiency. The minimum standard required by the government is 13 Seer, most old air conditioners are approximately 7-10 Seer, upgrading to the minimum 13 Seer is a good improvement, these are 20-40% more efficient than minimum-efficiency models made even 10 years ago. New air conditioners have a Seer that ranges from 13 to 22. Keep in mind the efficiency of your system can also depend on the size of your home your current ductwork and other variables.
What is the average SEER rating in Chicagoland?
The cooling season in Chicagoland is approximately 90 days, the average residential homes in Chicagoland have 13 Seer air conditioning systems. Higher SEER equipment may provide poor return on investment since Chicagoland has a short cooling season. SEER rating depends on your needs. Higher Seer air conditioners are made for southern markets with longer cooling seasons.
What is 1 stage, 2 stage and variable speed?
Single-stage air conditioners with lower SEER ratings typically have a single-stage compressor and run on one speed. A single-stage air conditioner turns on when your indoor temperature exceeds the temperature set on your thermostat. Single-stage compressors always operate at 100% capacity. They turn themselves on and off continuously throughout the day, blasting your home with cold air before it turns itself off when the set temperature is reached. It then turns on again when the indoor temperature rises above set temperature on your thermostat. Most of your air conditioner's electricity draw happens when it turns on, not while it's running. In the summer, a single stage compressor turns on and off often, this process is known as "short cycling."
A 2-stage air conditioner has a compressor that operates at two speeds; high and low. High runs at full capacity during hot days and low capacity during milder days. A 2-stage unit cycles on and off less frequently than a single-stage air conditioner.
A Variable speed air conditioner has a compressor that operates at several different speeds providing a consistent stream of cold air into your home to maintain the desired indoor temperature and rarely turning off.
2-stage and variable speed air conditioners offer better comfort in your home, better air quality, lower energy bills and some models offer utility rebate incentives.
2-stage and variable speed air conditioners provide even temperatures in your home and lower humidity, as these units operate for longer periods of time proving better air flow and allowing more time to remove humidity from the air in your home, rather than on and off like a single- stage unit.